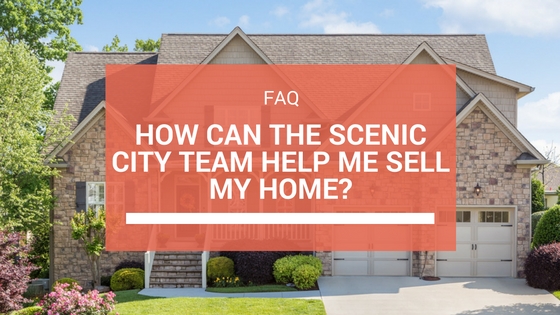 Here are some great questions we usually hear from sellers:
Are you a full-time professional real estate agent? How long have you worked full time in real estate?
Each member of the Scenic City Team is a full time agent. Between all team members we have over 15 years of experience successfully listing and selling homes.
Do you have staff to handle different parts of the home sell? How will they help me in my transaction?
The Scenic City Team has a full time contract-to-close assistant. Your listing agent will work with you exclusively up until you receive a contract on your home. After that, your listing agent will introduce you to our contract-to-close admin who will coordinate with you, the Buyer's Agent, and your Listing Agent through closing to make sure everything goes smoothly. Your Listing Agent will be with you at closing to make sure all paperwork and monies exchanged are done according to the contract.
Additionally, we have Buyer Specialists that can work with you if you are looking to sell and then purchase a different home. Our Buyer Specialists will also work with you and our contract-to-close admin to make your back-to-back sell and purchase go smoothly.
Do you have a Website that will list my home? Can I have your URL address?
We list your home on our website www.ScenicCityTeam.com under featured listings, our local Multiple Listing Service(MLS), and with our company website www.KW.com. We then allow over 300 secondary websites like Realtor.com and Zillow to advertise your listing for optimal exposure to buyers. You will also find announcements and updates on your home on our social media pages like Facebook and YouTube.
How will you keep in contact with me during the selling process, and how often?
We tailor our communication to your specific needs and desires. This means that we will schedule a weekly phone call or email if you prefer, or check in with you only when there is news to report. You can also receive statistical data on your home's listing views if you would like. All sellers receive advance notifications when their home is being shown and receive feedback on the showings.
Will you give me names of past clients?
Absolutely! Or, you can check out our past client reviews on our Facebook Page.
What will you do to sell my home? Who pays for your advertising?
The Scenic City Team uses a number of advanced methods to get your home sold. We are dedicated to getting your home sold because we invest in your listing. We provide professional photographs at no cost to you so that your listing stands out among the rest and also provide a virtual tour. Additionally we market your home to over 300 websites and social media sites as well as agent-to-agent websites. Most importantly we do a detailed price analysis to get your home priced right for optimum showings and the highest priced offers!
Contact us today about selling a property!